Forging the Future of Finance:
Liri Holdings' Samuel Appadoo Talks Innovative Fintech Solutions
Release Date: 2017-06-28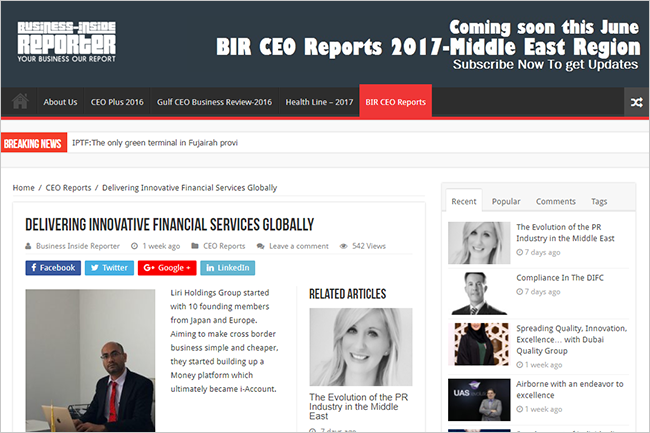 Liri Holdings VP Samuel Appadoo said, "FinTech is the future of the banking and financial industry. We, as a money infrastructure provider, are supporting the most convenient and cost-effective path to transfer money globally for commercial enterprises and corporate organizations."

For this selfsame reason, Liri Holdings has always been innovating and extending its reach. It is a financial technology company offering e-wallet solutions, money transfer services, prepaid debit cards, merchant account services, business consultancy, and offshore incorporation globally. It holds offices in Hong Kong, Shanghai, Taiwan, South Korea, Philippines, Singapore, Ireland, United Kingdom, New Zealand, and the UAE. Designs to put up new offices in Africa and the Pacific region to live up to the demands of their worldwide clientele are being undertaken.

The company began with 10 founding members from Japan and Europe. Aspiring to build cross-border business simpler and less expensive, they embarked on building up a money platform brand which is i-Account.

"After careful listening to our clients' demands and total understanding of their requisites, we tailor-made a resolution for each client. It has been a Liri Holding's recipe for success," says Appadoo.

The company's mission is to extend services with more convenience and a lot cheaper than that of a traditional bank.

Liri Holdings has three main pillars: a money platform which is a secured e-wallet/remittance solution known as i-Account where individual or corporate clients can receive funds and make remittance transactions within a secured web-based solution or through a mobile app; a prepaid debit card called i-Card in which funds or payment of salaries can be transferred instantly from the client's wallet to the card and can be used to withdraw from ATMs worldwide, point-of-sale and online payments; and a payment gateway to allow clients to process credit card transactions for their online stores – the i--Payments based in the UK and IAC Payment Services Provider which is based in Dubai, UAE. They too furnish a white label solution which incorporates all the above.

Carrying such a commercial initiative is a worthwhile challenge because it comprises of so many facets of engineering, management, finance, and compliance altogether.

That's why Liri Holdings invests wisely in their IT infrastructure. Ensuring the systems are up-to-date is critical, since they deal with client data with extreme confidentiality. The company leaves no stone unturned to have their security system in tip-top shape -- depending on their standard encryption SSL technology and a cutting-edge firewall system to prevent unauthorized access. Ensuring as well that client information is safeguarded from data theft, prevention of unauthorized access through an international standard server. Maintaining anti-phishing strategy based on VeriSign EV SSL, and compliance on Strict User Authentication Procedures.

Since all their services are duly licensed, there is also the fact that they are liable not only to their clients, but also to their regulators in Hong Kong, UAE, Philippines, UK, New Zealand, Singapore, among others -- the reason why Liri Holdings is exceedingly cautious in their choice of IT infrastructure and software for their IT park.

While the customer base for Liri Holdings mainly consists of banks, corporate organizations and payment service providers, they focus more on B2B and proudly put themselves as a money infrastructure for corporate and financial establishments, which is their competitive edge.

In general, it is understood that inter-bank transfer is established on a SWIFT transaction, but apart from this, there are many other money transfer methods existing independently. It is necessary to incorporate all these methods together for the customer's convenience and welfare. Additionally, small companies and a heap of people are not satisfied with existing bank services. There is a timely need to provide an alternative banking and financial solution to such clients.

"At Liri Holdings, we trust that open innovation and collaboration will enable and empower FinTech startups and corporations to not only address changing customer needs, but to do so at a faster rate with a more meaningful impact," Appadoo stressed.